BOARD OF DIRECTORS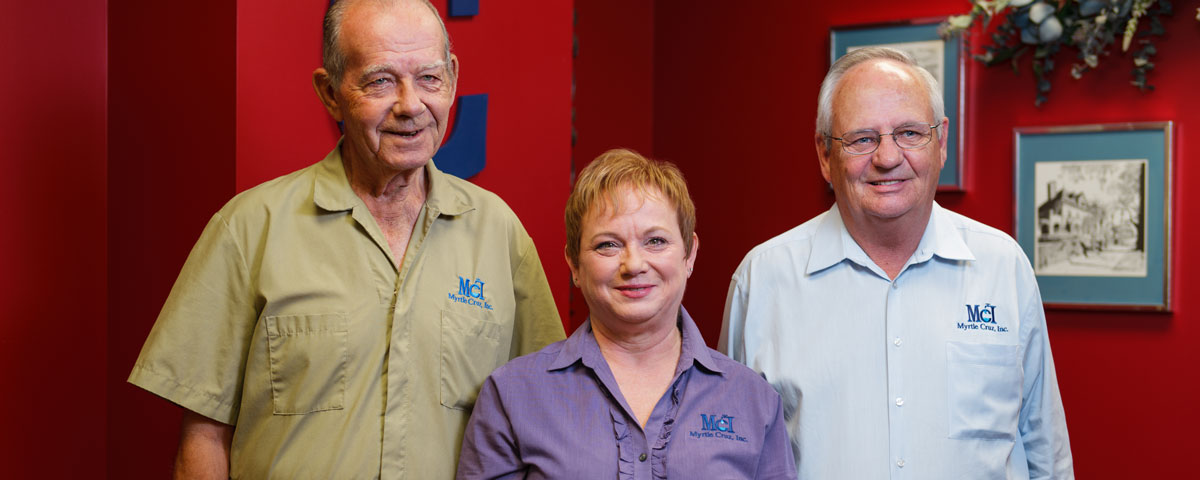 Lester Lilley (Treasurer & Secretary), Mary Jarmon (President), and Bill Russell (Health & Human Resources)
Not Pictured: Myrtle Cruz (Chairman of the Board) and Bob Jarmon (Vice President)
Mary Jarmon is President of the Board of Myrtle Cruz, Inc., appointed in 2004 when Myrtle Cruz became Chairman of the Board. Born in Huntsville, Texas in July of 1955, she has lived in Houston since August of 1955 and is a proud Houstonian.
During high school and upon graduation from J. Frank Dobie High School in 1973, Mary worked at Mort Hall Ford. After marrying in March of 1976, Mary quit the 'daily grind' to concentrate on family and raise her two children.
After countless PTA meetings, carpools, and Little League games, Mary was called back into the workforce by her aunt, Myrtle Cruz, and was confronted by an industry that is interesting, complex, and always changing. Mary has worked for Myrtle Cruz, Inc. since 1993 as a senior bookkeeper attending and/or preparing over 30 districts monthly. She also serves on the Advisory Council of the Association of Water Board Directors.
Mary has resided in a Municipal Utility District since March of 1980 and is extremely supportive of the services and opportunities that utility districts provide to the economic growth of the Houston area.
Phone: (713) 759-1368, ext. 104
Email: mary_jarmon@mcruz.com
Lester L. Lilley was born in Polk County, Texas January 31, 1932. He began school at Camp Ruby in 1937 and then transferred to Big Sandy in 1939. Lester played Class B basketball and his team won runner-up in the 1949 State Finals. After graduating from Big Sandy High School, Lester went on to attend Sam Houston State University in Huntsville until 1952.
From 1953-1954, Lester served in the army, stationed in Killeen, Texas. Following his time in the military, he returned to Sam Houston and graduated with a Bachelor of Business Administration and a 3.7 grade average in 1955.
Fresh out of college, Lester worked for the Slick Oil Company as an accountant during 1955 and 1956. His next job was for Tenneco as a tax accountant from 1957-1966. Also during his time at Tenneco, Lester attended the University Houston at night and was able to graduate with his MBA in 1960. In 1961, he passed the CPA exam.
Following his work at Tenneco, Lester was Secretary-Treasurer of Lynbrook Corporation from 1967-1968. In 1969, Lester was appointed Secretary Treasurer of Mort Hall Ford where he worked until 1979. In December of that same year, he went to work with his sister, Myrtle Cruz, as the Secretary-Treasurer of Myrtle Cruz, Inc. He has maintained his post as Secretary-Treasurer on the board of directors for Myrtle Cruz, Inc. for 26 years and counting.
Phone: (713) 759-1368 ext. 107
Email: lester_lilley@mcruz.com
Bill Russell serves as Director of Health and Human Resources on the Board of Directors for Myrtle Cruz, Inc. Bill was born in July of 1950 in Columbus, Ohio. In 1972, Bill graduated from Franklin University in Columbus with a Bachelor of Science in Business Administration. He later received his MBA from Central Michigan University in Mount Pleasant, Michigan.
Bill joined the United States Army in 1973 and was stationed in numerous locations including Alaska; Killeen, Texas (Fort Hood); Alabama; Germany; Las Vegas, Nevada; and Philadelphia, Pennsylvania.. After 20 years in the Army, Bill retired as a Lieutenant Colonel. During his time in the Army, Bill had the opportunity to work with the public and a wide variety of public entities. The Army also provided Bill with experience in all aspects of management, development, and operations on many different projects.
Bill has been employed at Myrtle Cruz Inc. since July of 1999 and currently is the bookkeeper for nineteen districts and prepares the general ledgers for audit on the over 200 districts represented by Myrtle Cruz Inc. Bill was appointed to as Director of Health and Human Services in 2004 and in addition, oversees the entire support staff of Myrtle Cruz, Inc.
Phone: (713) 759-1368 ext. 106
Email: bill_russell@mcruz.com
Myrtle Cruz is the Chairman of the Board of Myrtle Cruz, Inc. Born in Dallardsville, TX on January 26, 1924, Myrtle was raised and educated in Polk County, Texas. After graduating high school, she moved to Houston to attend Business College. Upon receiving her degree, she worked in several different fields, including the oil industry, as a registered stockbroker, and then as a bookkeeper to Cyril Smith, attorney. Myrtle served as the bookkeeper for the Municipal Utility Districts that Mr. Smith created, which were some of the first Water Districts created in Texas. Realizing a need, and recognizing and opportunity, Myrtle found Myrtle Cruz, Inc. in 1978 to provide bookkeeping services to Municipal and Special Interest Districts.
During the early years in the industry, Myrtle was a founding member of the Association of Water Board Directors – Texas. In 1992, she was one of the first recipients of the Visions Award, the highest honor A.W.B.D. can bestow in recognition of service. She served on the A.W.B.D. Advisory Council through four decades, and in 2003, was confirmed as the first Emeritus Member of the Advisory Council.
Myrtle currently resides in Pearland, TX within the boundaries of an In-City Municipal Utility District. Her courage in launching a woman owned small business at the age of 54, and her dedication to learning and developing a model for bookkeeping services in the constantly changing and expanding MUD world is a continued inspiration to us at Myrtle Cruz, Inc. who carry on her work.
Lary Lilley was born March 7, 1958 in Houston, Texas. He graduated from South Houston High School and attended University of Houston while working at Shell Oil in the computer department. Lary began working for Myrtle Cruz, Inc. in 1980. He joined the company in order to design a computer program that would provide Myrtle Cruz, Inc. an easier way to input municipal utility district reports. The programs that Myrtle Cruz, Inc. still uses today are his product, which he modified over the years to work with the changing technology. In order to design a comprehensive system, Lary became a bookkeeper so that he could understand the complete needs of the industry.
At the time of his death, in September 2005, Lary represented over 20 Districts as bookkeeper, including the Greatwood and Copperfield Utility Districts, and acted as the Vice President of Myrtle Cruz, Inc. Lary also served as a Director on the Board of Brazoria County MUD #26 from the inception on March 18, 2002 until the time of his death. Lary was honored posthumously, October 4, 2005, by the district in a resolution commending him for his service. During the last months of Lary's life, even as he endured the rigors of chemo treatment, he still attended meetings, helped with District reports, and played in the AWBD Golf Tournament in Corpus Christi.
In addition to his professional interests, Lary was an avid golfer, bowler and was actively involved, at times, with the Sagemont Little League and the Boy Scouts. He especially enjoyed scouting activities, as it was a great way to spend time with his two sons, Jeremy and Adam. The most important part of Lary's world was his family, which in addition to his sons, includes his wife, Deb, and daughter, Sara.
Lary was a vital part of Myrtle Cruz, Inc. and of the Water District industry as a whole. Never was this more evident than at his funeral, when his memory was honored by the large number of Consultants and Directors who came to pay their respects to, not only a colleague, but also a friend.
BOOKKEEPERS
Having a bookkeeper that is dedicated to your organization is one of the perks of working with Myrtle Cruz. They will always have your best interest in mind and you can look forward to seeing a familiar and friendly face.
SUPPORT STAFF
No company would be a success without the important people behind the scenes that make the magic happen. Our talented support staff is here to make sure that you always have a helpful voice on the other end of the line and that your records are always properly maintained.